Scalability
IsarFlow SingleServer setups are well suited for scenarios where a single analyzer appliance can handle the overall network load. The product range covers small installations up to medium or large sized networks.
The netflow collector has been completely rewritten focusing on performance. It has been increased by factor 20! Thus, in case of CGN up to 1.8 million NAT44 netflow events can be processed.
SingleServer setups support all IsarFlow functionality from analysis options via the various reporting options to QoS analysis capabilities. By offering different setup types IsarFlow can easily adapt to different networking scenarios in an efficient and cost effective way.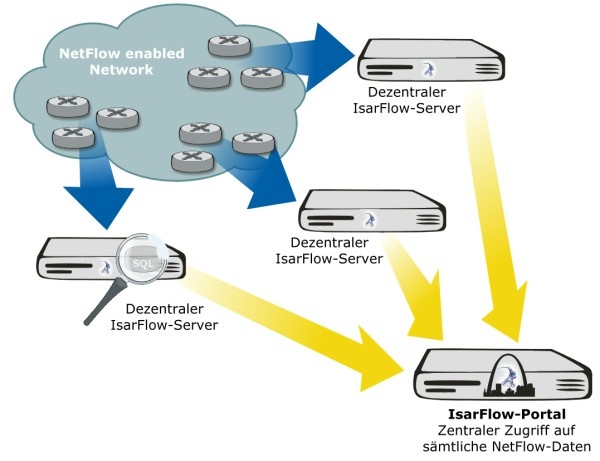 For large networks, like service provider networks or complex enterpise backbones, it is recommended to deploy more than one analyzer for NetFlow data collection and analysis. IsarFlow thus offers a distributed solution for networks with a high amount of flows per day. NetFlow enabled routers and Layer3 switches send data to different, distributed servers which store the information in a distributed database. SNMP and IP-SLA data can be collected from all servers of the distributed environment.
Access to all data occurs via the central IsarFlow portal which provides a single and standardised user interface for all analyzers. The portal is also able to provide reports or alerts covering the complete database.
By its integrated multi-client capability, IsarFlow also offers access for different types of end users, allowing access only to the part of the data which is relevant for the respective client. The multilingual GUI further supports localized access in the clients native language. A distributed IsarFlow setup might also be suitable for smaller sized networks, e.g. with the network topology prohibiting deployment of a single server.